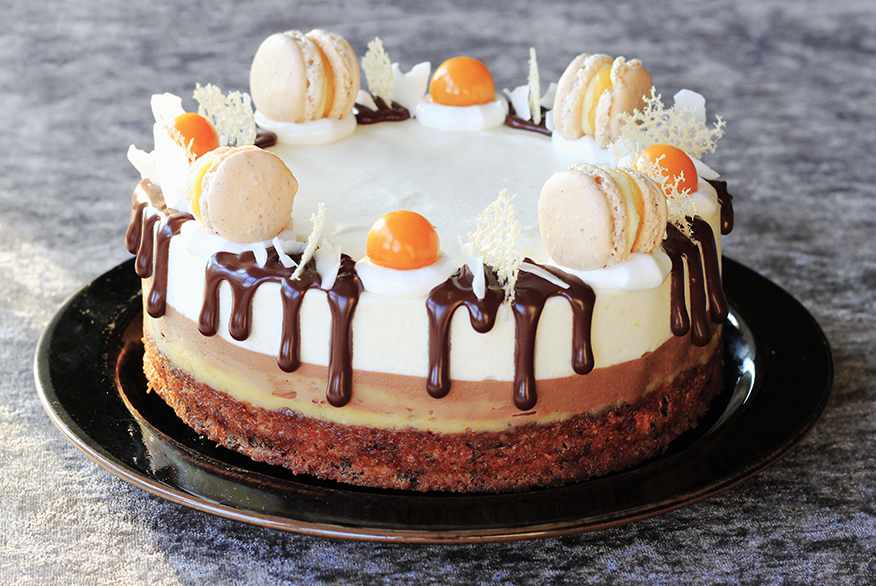 Her er mit bud på dette års påskekage. Der er ikke meget påskeæg eller påskehare over den, men til genæld smager den hammer godt
Kagen består af, hvad der nok er min yndlingsbund for tiden, en kokosbund med chokolade og mandler. Derpå er der smurt lidt lemoncurd, toppet med en blød chokolademousse. Opskriften på chokolademoussen er fra Spisbedre.dk og kan findes her. I følge mig er det simpelthen den lækreste mousse, og jeg har brugt den opskrift utallige gange.
Oven på chokolademoussen er der en frisk og syrlig citronmousse. Til sidst er kagen pyntet med chokoladedryp, marengs, macarons, kokos, tuliles og nogle ananasbær. Jeg lå inde med nogle macarons og tulies, men de to elementer er slet ikke nødvendige for at lave kagen, hvis man ikke lige har mod på at lave dem – Specielt macarons er jo lidt tidskrævende at lave.
Selvom bunden er meget sød, og chokolademoussen til tider godt kan blive lidt for sød også, så bindes det hele så dejligt sammen af den syrlig citronmousse og lemoncurden, der er smurt ud på kokosbunden, så kagen hverken bliver får sød, for bitter eller for sur, men bare er helt perfekt. 
Jeg lavede kagen i forbindelse med at min Faster, onkel og to små kusiner var på besøg. Vi fik lave-selv madpandekager med kødsauce, grøntsager og diverse toppings, og så nacos ved siden af. Så hovedretten og desserten passede slet ikke sammen, men det var en fredag aften, og skulle bare være et nemt og hurtigt måltid, som mine småkræsne kusiner også ville kunne lide.
Kokosbund med chokolade og nødder
2 æg
1 dl dukker
1 tsk vaniljesukker
1 tsk bagepulver
63 g smør
1/2 dl mel
2 dl kokosmel
50 g mandler
100 g mørk chokolade
Start med at tænde ovnen på 200 grader varmluft.
Smelt smøren i en lille gryde og stil det derefter til side for at køle af.
Æg og sukker piskes godt sammen i et par minutter til massen er lys og luftig. Herefter vendes smøren sammen med sukkermassen.
Sigt nu mel, bagepulver og vaniljesukker i kagemassen og tilsæt dernæst kokosmelet. Nødder og chokolade hakkes groft og røres i dejen.
Hæld dejen i en smurt springform på 20 cm og stil den i ovnen i 20 minutter, eller indtil kagen slipper, hvis man stikker en gaffel i den.
Lad kagen køle et stykke tid på komfuret og stil den så i køleskabet. Lemoncurden kan påbegyndes med det samme.
100 ml citronsaft (2-3 citroner)
63 g smør
150 g sukker
2 æg
I en gryde ved middelvarme piskes citronsaft, æg og sukker sammen – Pas på med varmen, det må ikke koge!
Pisk det grundigt sammen i et par minutter og tilsæt så smør. Fortsæt med at piske til smøren er smeltet, og curden begynder at tykne. Her er tålmodighed vigtig, da det godt kan tage lidt tid, men der må endelig ikke skrues op for temperaturen, så gryner æggene.
Når curden har  den ønskede konsistens og er en blød creme, tages gryden af varmen. Hæld curden gennem en sigte ned i et glas og stil det på køl. Når den er helt kold, hældes der en smule over kagen – Det skal ikke ligge i et tykt lag, men smøres forholdsvis tyndt ud, men mindre der selvfølgelig ønskes en meget skarp citronsmag.
Påbegynd chokolademoussen, når lemoncurden er smurt på kagen.
1 blad husblas
100 g mælkechokolade
1 æggeblomme
1.5 dl piskefløde
Lidt salt
Læg husblas til udblødning i rigeligt med koldt vand i mindst 10 minutter. 
Hak chokoladen groft og smelt den så i et vandbad. Når chokoladen er smeltet, tages den af vandbadet og æggeblommen rører i. hæld 1/3 af fløden i en gryde og varm den op til kogepunktet. Tag så gryden af varmen og tilsæt det udblødte husblas – Rør godt rundt og vær sikker på, at al husblas er opløst. 
Hæld lidt af den opvarmede fløde i chokoladeblandingen og rør det rundt fra midten af. Fortsæt til al den opvarmede fløde er tilsat og chokolademassen samler sig og bliver flot og blank. Tilsæt salt efter smag.
Pisk det resterende fløde og vend det i chokolademassen. 
Tag kagen ud af køleskabet og beklæd siderne af springformen med kageplast – Så får kagen et skarpere udtryk i sidste ende. Hæld chokolademoussen over kagen og stil den tilbage på køl. Når chokolademoussen har sat sig, kan citronmoussen påbegyndes.
4 blade husblas
Saft og skal fra 2 citroner
110 g sukker
150 g skyr
2.5 dl piskefløde
Start med at lægge husblas til udblødning i rigeligt med koldt vand.
I en gryde koges citronsaft, skal og sukker sammen i cirka 10 minutter. Tag gryen af varmen, vrid husblassen og rør den i citronsiruppen – Sørg for at al husblas er opløst!
Stil gryden til side og lad siruppen nå fingertemperatur.
Pisk fløden til let skum og vend halvdelen af det sammen med skyren. Hæld langsomt siruppen over skyr- og flødeblandingen og vend det sammen. Tilsæt resten af flødeskummet og vend det hele sammen.
Tag kagen ud af køleskabet og hæld citronmoussen oven på chokolademoussen. Stil kagen tilbage i køleskabet i minimum 4 timer, før den pyntes.
100 ml fløde
10 g mørkchokolade
Smelt chokolade og fløde sammen over et vandbad. Når chokoladen er helt opløst, hældes ganachen over i en lille drypflaske/plastflake med tud på, og ganachen stilles på køl. 
Hvis ganachen skulle gå hen og skille, kan man altid forsøge at stavblende den sammen igen – Det lykkedes 9/10 af gangen, jeg taler af erfaring ;-) 
Kort inden kagen skal serveres, tages chokoladeganchen ud af køleskabet, og kagen pyntes.
Ananaskirsebær
Marengs
     2 æggehvider
     100 g sukker
Mini macarons
Koral tuiles
Chokoladeganache
Kokosflager
Start med at piske marengsen sammen – Pisk æggehviderne i cirka et minut og tilsæt så sukker, og pisk til marengsen er helt stiv. Kom marengsen i en sprøjtepose med tyl.
Sprøjt otte toppe af marengs ud på kagen overfor hinanden.
Jeg havde dagen før forsøgt mig lidt frem med macarons med lemoncurd, så dem brugte jeg til at pynte med. Jeg synes dog ikke, at opskriften er helt god endnu, så den slipper I for. Macaronerne kan sagtens undværes eller erstattes med chokoladestykke eller flere ananaskirsebær.
På fire af marengstoppene sættes et ananaskirsebær og på de fire resterende sættes en mini macaron. Indimellem marengstoppene laves der med chokoladeganachen chokoladedryp. Det er ganske simpelt, men kræver lige et par dryp, før jeg fangede den helt. Oven på chokoladeganchen pyntede jeg med nogle kokosflager og koral tuiles, om jeg havde liggende. Og så er kagen færdig og klar til servering.